Hoppy Holidays
Shop Hoppy Holidays now for all things festive, winter and, of course, bunny!
Shop Now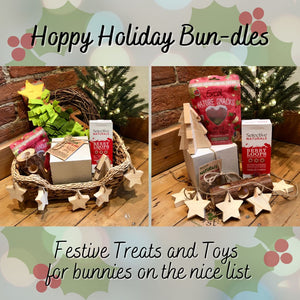 Hoppy Holidays Bun-dles Are Here
Th Hoppy Holiday Bun-dle Box and Hamper are perfect gifts for bunnies this Chirstmas.
Shop Hoppy Holiday Bun-dles
Welcome to the One Hop Shop for you and your bunny(s)!
Rabbit Retail is the one hop shop by a bunny lover for bunny lovers everywhere. From rabbit art to bunny toys; from rabbit gifts to bunny treats; from custom bunny art to rabbit cards, we have everything bunny rabbit. Hop on in and take a look around our warren of bunny items. Also, everything is vegan and we are an eco friendly company.
Rabbit Retail
73 High Street, Aylesbury, HP20 1SA
Saturday 10am - 4pm
Sunday: 10am - 2pm
Monday: Closed
Tuesday: 10am - 2pm
Wednesday: 10am - 2pm
Thursday: Closed
Friday: 10am - 2pm